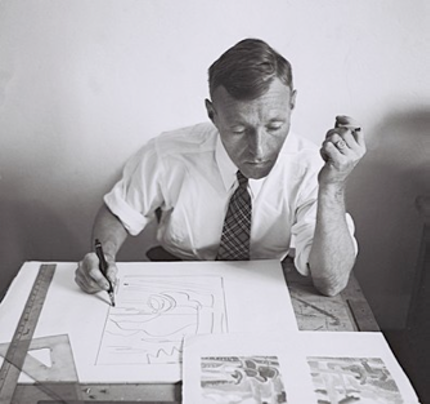 Richard Floethe remembered "always having a pencil in his hand," and, indeed, by the time of his death in 1988, he was considered one of America's premiere graphic artists and book illustrators, working in a variety of styles ranging from Realist to Expressionist to Surrealist.  He was born in 1901 in Essen, Germany, an only child whose parents encouraged his education.  From 1920-25 Floethe trained in printmaking and painting at art academies throughout Germany - the Munich State School of Art, the Bauhaus in Weimar and the Dortmund Art School - which he selected on the quality of the instructors.  Of these institutions, the progressive school of applied arts, the Bauhaus, where he studied color theory with Wassily Kandinsky and design with Paul Klee, "influenced [him] permanently."
Floethe's work from the mid-1920s exhibits his early facility in different graphic media and styles: For example, his charcoal illustrations for the Russian novel The Overcoat borrow from German Expressionism with their brooding, elongated figures in moody interiors;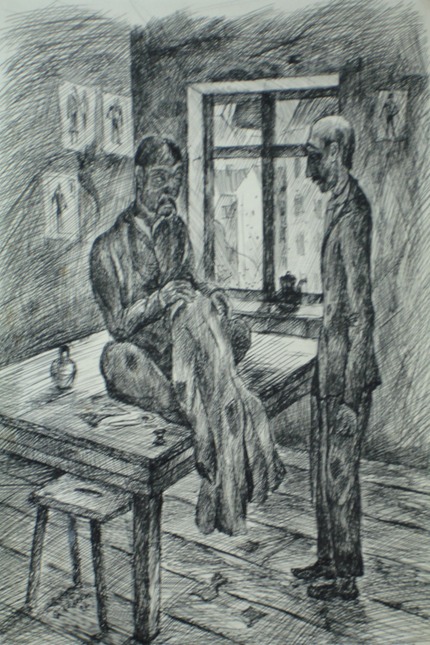 his "Circus" woodcut series employed Bauhaus effects by transforming acrobats into flattened patterns;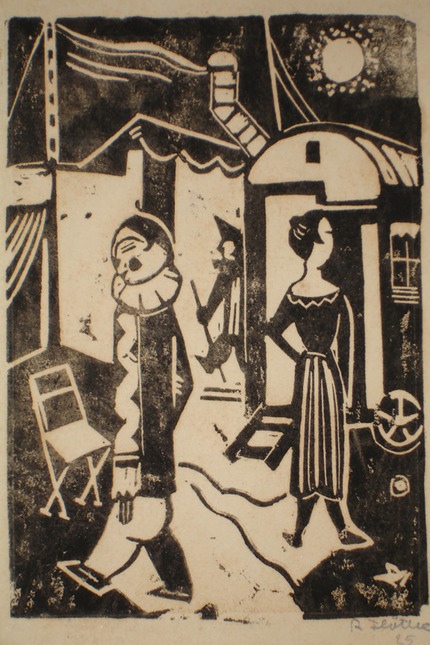 and his minimalist pen-and-ink drawings of auto races in Hohensyburg evoke the Bauhaus themes of the machine and modernity.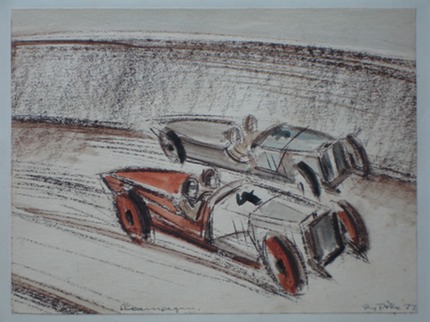 Floethe supported himself through advertising assignments in Munich and Dortmund, and in 1928 he received a commission to paint a large historical mural for the International Exposition in Cologne. Following its completion, he set sail for New York City and so began a new life chapter.
During his first two years in new York, Floethe worked as art director for Harold Advertising Agency, and in 1930 he officially launched his career as a freelance illustrator, eventually designing more than 100 books for children and adults. His colored woodcut illustrations for both The Glorious Adventures of Tyl Ulenspiegl (1934)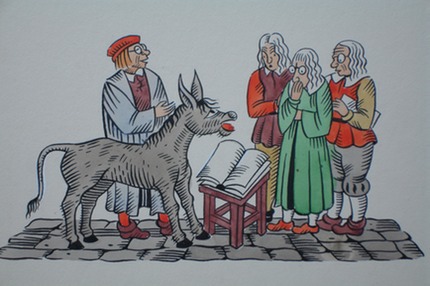 and Pinocchio (1937)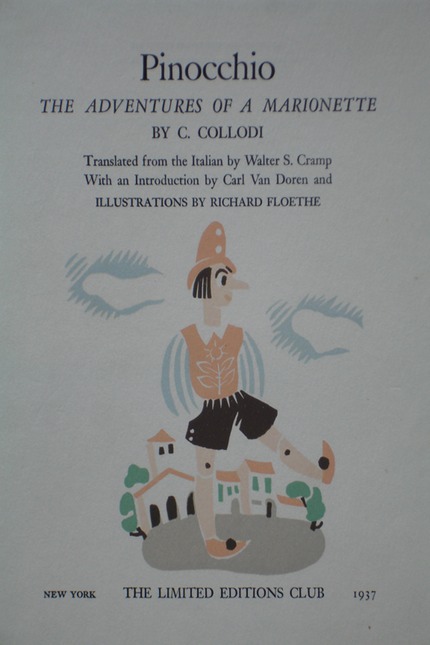 gained special recognition, winning the Limited Editions Club "best-illustrated book" award.  On the side, Floethe was also painting several portraits each year, one of which was featured in the prestigious Society of Independent Artists exhibition of 1930. These oils, unique in his oeuvre, couple the earth tones and figural realism of regionalist painting with a modernist flattening of forms and space: in each, a simplified geometric setting boxes in a large single figure, often lost in reverie, creating an effect of isolation.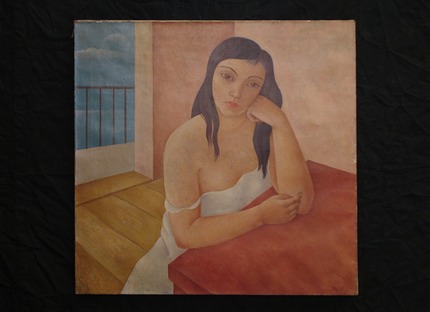 Floethe's rapid success as a graphic artist led to his appointment in 1936 as director of the Federal Art Project's poster division in New York. Particularly effective in exposing the American public to art, this division created for various governmental agencies two million posters from 35,000 designs on subjects such as public health, education, and wildlife conservation.  Here, Floethe's Bauhaus principles - stylized forms and bold lettering in the typeface Stencil - and helped promote a new printing method, serigraphy (silkscreen).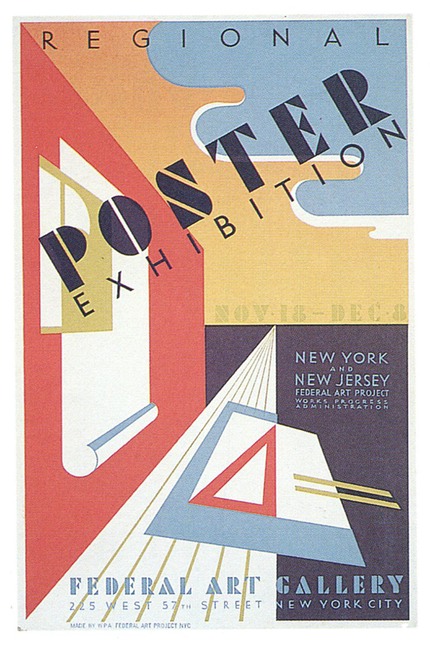 Floethe was viewed as an expert administrator, who encouraged his artists to experiment broadly, motivated them through in-house competitions and campaigned to have them sign their work, an acknowledgement of the poster as a true art form. These same teaching skills Floethe would bring to his next two institutional positions, instructor of commercial design at Cooper Union (1941-42) and art director of the New York War Service (1942-43). 
The late 1930s and 1940s saw Floethe's growth as a printmaker and illustrator. In 1939 after retiring from the poster division, he bought a farm in Middletown, N.Y., with his wife of two years, Louise Lee.  Inspired by the Orange County landscape, he produced numerous serigraphs of local properties with meandering brooks and stone walls.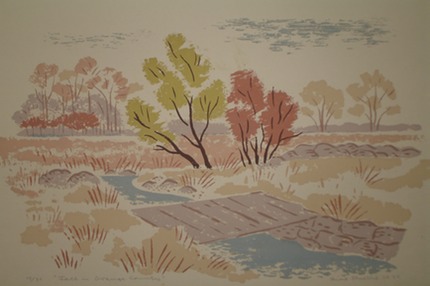 A skilled horseman, Floethe also took up polo playing, a hobby he translated into other stylized serigraphs such as "Polo Ponies."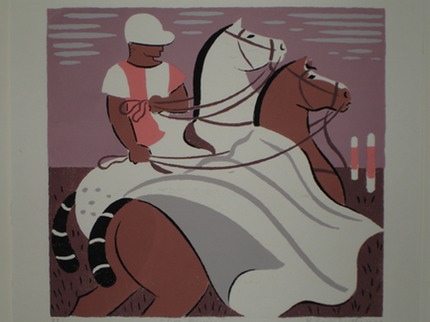 Like these prints, his illustrations and cover designs continued to exhibit a predominant "poster" or Bauhaus aesthetic thick black outlines and two-color palette, and his 1943 cover for Art News, "The Liberator," powerfully communicates its message through a simple still life with a white flag piercing a Nazi helmet.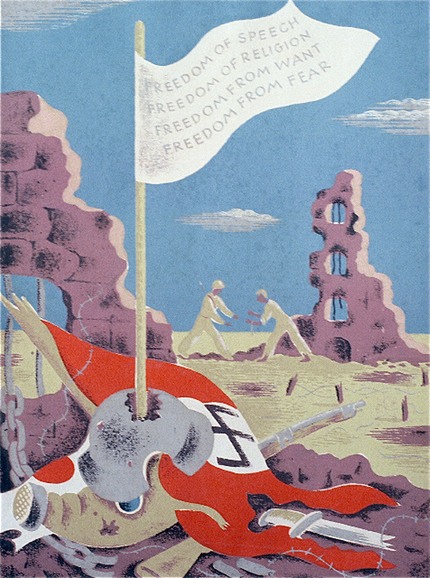 In 1950 the couple moved to Sarasota, Florida, marking the beginning of their twenty-five-year professional collaboration as author and artist. From September to May, Floethe taught at the Ringling School of Art (1954-67), and during the summers, he and Louise and their two sons traveled  in search of material for books, which Louise would write and Floethe would illustrate. Together they produced twenty-three publications. 
At First, the family explored the scenic U.S. - including the West,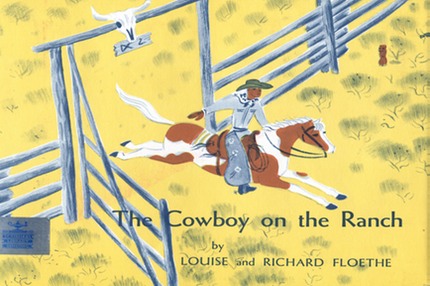 Martha's Vineyard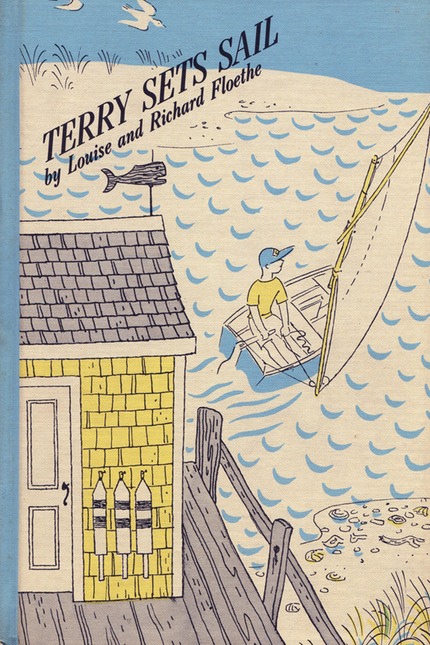 Hawaii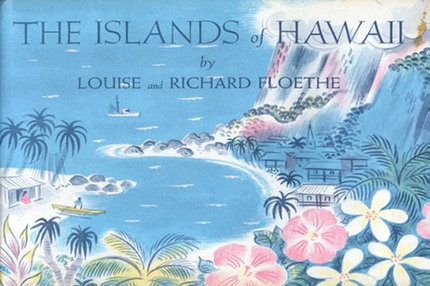 and soon broaden their vistas to Europe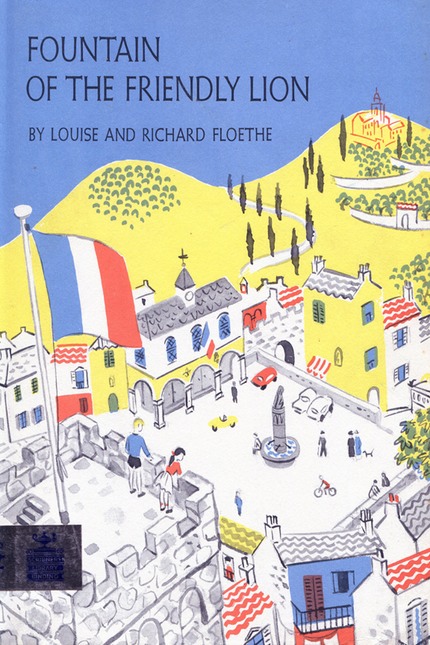 South America, Asia and the Pasific and Caribbean Islands.  While aboard, Floethe worked almost exclusively in watercolor, and easily transportable medium that allowed him to sketch quickly and capture the effects of light. 
His subjects focused on the outdoor recreational activities of a given culture, whether regattas in Cape Code, Rodeos in Wyoming, dances in Hawaii, cafe dining in France, or boating in Tahiti.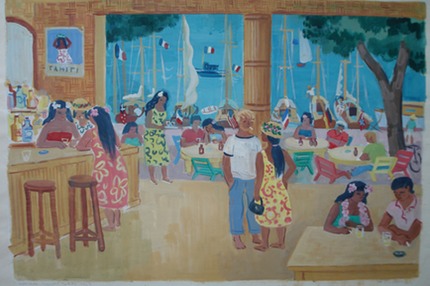 Most striking about these paintings is their stylistic shift from Floethe's more minimalist prints: reminiscent of watercolors by the Fauvist Raoul Dufy, Floethe's watercolors employ both Kaleidoscopic color and whimsical line, with broad swaths of background color superimposed with curvilinear forms. No doubt Floethe was invoking the lessons of his Bauhaus teacher Kandinsky, who saw colore and line as autonomous expressions of states of mind.
During the last decade of his life, Floethe turned to another early Bauhaus influence, the Swiss-German Surrealist painter Paul Klee. Around 1978, Louise started collaborating with son Ron Floethe on documentary films, and Floethe found himself free to experiment with materials, new subjects and Klee-inspired serigraphs, woodcuts and acrylics depiting landscapes or still lives with fantasy animals, biomorphic shapes and pictographs.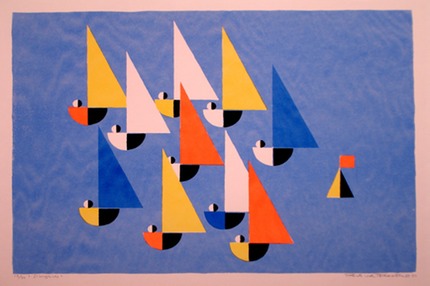 Inventive, playfui  and sophisticated even in their minimalism, these images from the 1980s encapsulate Floethe's strong graphic aesthetic as well as many of his favorite themes, such as the sea. They also attest to his wonderful sense of humor and his full and happy life.
Floethe's works are featured in collections of the Library of Congress, Metropolitan Museum of Art, Philadelphia Museum of Art, New York Public Library, University of Minnesota, University of South Florida, Spencer Collection,  Klingspor Museum, St Louis Museum, Kerlan Collection and de Grummond Children's Literature Collection. 
Mary Adair Dockery, Art Lecturer